In June 2014, G.R.A.C.E. members traveled to Abilene, KS to partake in the events at the Heart of America Greyhound Gathering.  At the end of the event, a traveling trophy was presented to the adoption group with the most members present at the event.
G.R.A.C.E. is the current holder of the 1st annual Heart of America Greyhound Gathering traveling trophy!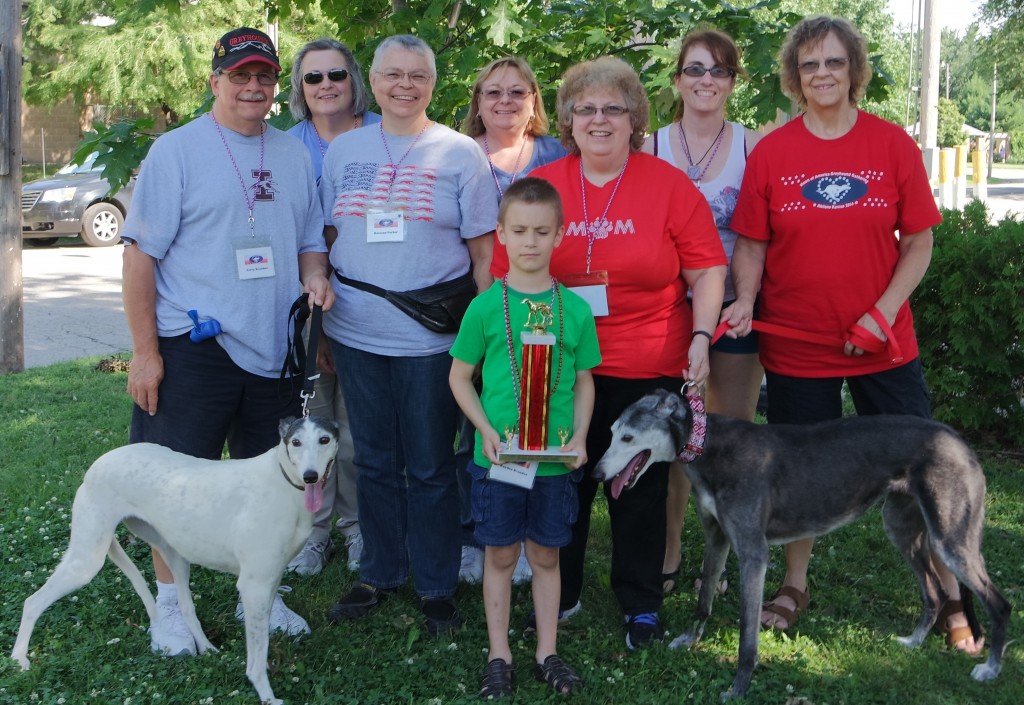 Back Row (L – R): Jerry Brandon, Nancy Mickey, Rosanne Parker, Tina Zdrada, Marcia Krey, Stacey Kolarik and Karen Brandon.  Front Row: Sierra, Cayden & Momma Meade.
In addition to seminars, vendors and fun events at the hall, participants went to the NGA Hall of Fame, NGA Tour, Farm Tours (and the Russell Stover factory).
There was a "Bling Your Muzzle" contest, dress up your hounds, puzzles, vendors and other games at the event hall.  Puppy Jasmine received a lot of attention from everyone and she was quite the ham!  Defrim Bale made an appearance as well.
Participants could choose to tour the NGA Hall of Fame, which currently has 2 resident hounds who are retired from racing.  The hounds greet visitors as they enter the building.
There was a scheduled NGA Tour where the group was given a tour inside the NGA administrative offices as well as the history surrounding the NGA.
Participants had the opportunity to go on farm tours as well as Jack-a-Lure demonstrations.  Below is just a snippet of the pictures taken.
**All pictures and videos on this page are the property of G.R.A.C.E. and cannot be used and/or reproduced without written permission from G.R.A.C.E.**