In memory of all those loved and lost…waiting for their human companions at

 Rainbow Bridge

.

 

While we often miss our beloved pets, it is uplifting to imagine

 reuniting at Rainbow Bridge.  If you have lost a friend that you adopted through G.R.A.C.E. or T.L.C. Greyhound Adoption please contact 

G.R.A.C.E.

and we will post it here in their memory.
| | | |
| --- | --- | --- |
| | Jax Feona | |
| | 2/5/2016 - 8/28/2023 | |
| | After only 5 1/2 short years, our beloved Feona passed away due to rapid osteosarcoma. In that brief time, she zoomied and slept with reckless abandon, turned a non-dog person into a hound lover and brought joy to everyone in her life. The greyhound-shaped hole in our hearts she left will not be soon healed and we are privileged that she chose us to be her humans. | |
| | | |
| | | |
MJ SKIP AWAY




"GINGER"




11/22/2006 - 12/08/2020



In memory of MJ SKIP AWAY aka "GINGER".

She was a great addition to our family and will be missed but she had an amazing 14 years. My daughter is so sad but we will get through this with memories of all the great times we had camping going to rivers and lakes and just of course CUDDLING.

Travis and May
RCK Nite Star




"SWEET STAR"




2008-2020



In memory of RCK Nite Star aka "Sweet Star".

We wanted to thank any and everyone involved in this organization. We adopted "Sweet Star" on April 29th 2012 and she stepped into our home and our lives have changed forever. I always said we were the lucky ones to have been privileged enough to own such a wonderful grey. She was a delight. When she would run in the yard I'd tell her " You Won you don't have to anymore"

She loved her 2 cats. She would chase them and let them love on her but would let them know who's boss. Loved her daily walks and her Sunday car rides. Would lay on our deck for hours. She was a sun goddess.

McDonalds was a favorite of hers as well as Netty's Chili dogs and ice cream cones. Star loved when Melissa would paint her nails, it made her feel special and she wouldn't move. She was treated like a Queen.

She loved Christmas time and the lights but hated the COLD! Loved to warm up by the wood burner. She couldn't wait for Melissa to bake cut-out cookies, they were one of her favorites! We couldn't have asked for a more Perfect grey even if we had wished for her.

She will forever be greatly missed

Melissa & Philip Abbott
Andy aka USS Andretti

6/5/2007 - 5/14/2020
Andy was the sweetest soul we ever met. He loved everyone in his own quiet, gentle way. He was always at the front door looking out when we pulled into the driveway, and he even knew when we were coming home from a walk without him, again waiting at the door with a stuffed animal of his choice in his mouth. He would then run through the open door and toss his stuffed animal in the air and catch it, having taught himself to play.

The House is too quiet already, even though he never barked or whined.

He was loving and trusting right up to the end.

Andy was a loving member of our family and leaves a big hole in our lives.

Run Free....Run Fast....Until we meet again

Your Loving Family
LN Hot Laps

Nickname: Hottie
Hottie came to GRACE an even though she wasn't with us long she made a lasting pawprint on our hearts. Run Free Pretty Girl....you were loved and will be missed.

Rem's Chrome
11/15/2012 - 3/20/2019
I gained so much from this hound that I plan to bring with me into this next chapter of life.
Eddie aka Roughnreadyeddie
4/22/2008 - 3/13/2019
Eddie (RoughnReadyEddie) earned his angel wings today. A vet from Lap of Love came out to the house & it was a peaceful passing. Our hearts are broken
Jammy (Sam)


6/2016 – 4/11/2017
This wonderful big puppy was taken from us too soon. He was so smart and loved to watch animal planet on the tv. He loved to play and would gather all the toys and put them in his crate. He found the couch and made it his special place. He didn't realize how big he was and would love to cuddle by laying in his mom's lap.
Jealousy Is Ugly aka Popcorn (Pop)


9/19/2002 – 2/22/2013
My big goofy boy with the curly tail…stuffy killer extraordinaire and water lover, he knew how to push every last one of my buttons.  He was the perfect first greyhound who loved every human/animal that he met.  Pop loved seeing other greyhounds and was the most alive when he was with a pack of greyhounds.  He let his sisters push him around while showing Zelda the ropes…and he always bummed treats off of his grandpa.  Pop would walk me to the garage to see if grandpa and his buddy had any fresh venison for him each time we visited.
He is still sorely missed by his sister Zelda and I…however the joke is on me, as Pop reached out from heaven and sent TWO pups in his place…one of which is another curly tail, big goofy boy.  While he was diagnosed with Lupus, it was the dreaded osteo that took him from us at the age of 10 1/2.
I would love one last hug from him.
Bilbo
1/11/2009 – 3/7/2014
Just two days short of being with  me for a year, Bilbo left to run without pain on March 7, 2014 from bone caner.  He loved his long walks and enjoyed car rides and spending time with his mom.  I will miss him with a heavy heart.

Blackbelt Angel "Angel"
28 Nov 1999 – 10 Feb 2014
Though slowed down by age,
still remained my sweet angel,
as if heaven sent.
Kiowa Get Lewis
a.k.a – Lenny
06/23/01 – 6/24/13
Gone, but never forgotten. Missed by all, except the squirrels. Take care best pal. We'll meet again someday. Love and miss ya buddy!
Darren
Payback

2/25/2001 – 1/05/2013
He Loved everyone. We miss his Love everyday.
Love, Tim & Tami Brown
Moon MT Q-Ball
10/5/2004 – 3/14/2013
It is with a great sadness that I must say goodbye to my friend, Mr. Que. I first found Que at the Novi Home show meet and greet and I knew from the minute I found him that he was the companion for me. Que was my first greyhound and taught me that the greatest pet companion you can have is with a greyhound. He was my lovey and snuggle bug that enjoyed snuggling and any attention he could receive. Que was always waiting for me when I would get home and would follow me wherever I went. Even as Que went through his fight with cancer he remained very loving and always there for me. He truly was a great friend of mine and will be greatly missed

.
Okie Syretta

1/4/1999 ~ 4/16/2012
Sire: Runnin For Mon Dam: Okie Precious
Pet name:

Sky
Our beautiful Sky Princess, Sky Rocket, Sky Girl…Bailey's buddy from moment they met. Sky brought us joy after we lost our Maggie May. She filled our hearts with love, and brightened our days. She was always our son Corey's dog, they slept together every night until he went off to college.
Sky had a long, happy life. She walked miles along the walking path at Riverside Park, and she spent many summer days on Drummond Island. Her favorite pastime was sunning herself in backyard while rolling in the cool grass. We always worried about her pink belly getting sunburned. She got along with everyone, and she never met a stranger. After countless wounds on her tail from wagging it against doors, walls, and anything within reach, she ended up losing part of her "happy tail".
At age 12, Sky suffered from a bone infection in her rear leg that would not heal despite treatment with many different antibiotics. After amputation of the infected leg, pathology revealed she also had bone cancer in another part of her leg. Sky fought hard for 3 months, always happy and playful despite her pain. Even on her last day with us, she could effortlessly catch a dog treat in mid air.
We loved our Sky Girl so much we could no longer watch her suffer, so we helped her make the journey to the Bridge. She was 13 years young…she was our girl for over 10 years. We will always remember her bright eyes and her happy tail.
Run Fast, Run Free …we will see you again Sky Girl.
The Dennison Family
Balltown Lynn

8/4/1999 ~ 5/16/2012
Sire: Lightning Lester Dam: Iowa Nonstop
Pet name:

Bailey
Bailey, Bailey, Bailey, our Squirrel Girl…she adopted us when we went to find a companion for Sky. There was just no way she was going to let us leave the kennel without her! From the moment she met Sky, the two were soul mates and best buddies. When we walked at the park, Bailey and Sky walked together as a perfectly matched pair. She was our only Greyhound who ever caught a squirrel, which she brought into the house and deposited onto our bed…ugh! She was so proud of herself! From that day on, she scanned the tree tops for more squirrels!

Bailey could be a little grumpy at times, she liked her space. But, she was also the most loving and sweet dog anyone could ever hope for. Her eyes held so much love, and she was always sensitive to what we were feeling, staying by our side when we were ill or feeling sad. She watched over Sky after her leg became infected, always concerned. At the time, we did not know that Bailey was fighting her own battle…bone cancer was spreading in her front shoulder, but still she ran and played like nothing was wrong.

Suddenly we noticed Bailey was limping on not only her front leg, but also her rear leg. We could not let her suffer, so exactly one month after we said good-bye to Sky, we helped Bailey to the Bridge. She was almost 13 years old, and had been a part of our family for 10 years. The soul mates are together again…running and playing just like when they first met. Run Fast, Run Free…we will see you again sweet Bailey.
Now our "Three Musketeers", Bailey, Sky & Bree-Anne, are at the Bridge with our Scrappy Boy.
The Dennison Family
Lazy K Oprah
10/6/2010 – 11/14/2012
Run fast, run free Oprah.
LittleBitLively
10/26/02 – 9/08/2012
I adopted LittleBitLively, who I named Kibeth, from TLC way back in December of 2005. I wanted to let you know that after nearly 7 wonderful years together, at nearly 10-years old, we had to help her cross the Rainbow Bridge this past Saturday.
Kibby was a completely healthy, wonderful companion and first dog. She was the "tough love Mama" and always cheered me up with her just get over it attitude. She did come out of her shell eventually, and loved to play with stuffy toys, her pink ball, her blue fluff ball, and even tug! Her version of tug, of course, which meant she held on and didn't let go while I did all the work. 😉
Kibby was diagnosed with lumbosacral stenosis, a terrible spinal disease that narrows the spinal cord near the base of the tail. As it progresses, it causes discomfort, and eventually severe pain and nerve damage. Kibby fought long and hard to stay happy despite the progression of the disease, but in the end, it was clear that she had given it her all, and it was time to free her of her suffering.
She passed in peace, her head in my lap, lying on the leopard bed she'd laid on when she did her in-home visit with us. Even in the end, she made me chuckle, as she stuck her tongue out when she went to sleep.
Run free, Kibby. Rest in peace.
Love,
Tasha Miner Salsido
Katie
3/10/2004 – 7/17/2012
When Katie adopted us we were new to the "Living With A Greyhound World." She was a marvelous teacher and taught us the fine art of counter surfing, bolting while on a leash, peeing on a leash, smiling a rather intimidating smile, mastering the stairs and being loved beyond words.
She earned her certification with Dr. Paws Pet Therapy and spent many hours putting smiles on faces and listening contentedly to stories of past pets and times gone by. She had the patience of a saint and taught us how to stop and smell the roses.
Her gentle spirit and sweet disposition made it easy to curl up next to her. She was the best listener and never gave away our best secrets. When I cried she sensed my sadness and kept a very close vigil. When her dad got sick and had to go into a nursing home she often visited, bringing joy to all the residents. You could see the sparkle in her dads eyes when he saw her and kissed her sweet face.
Katie died exactly two weeks after her daddy died. I believe that he called her to be with him. My heart is broken, but I know that she is loving her dad and they are taking care of each other until we are once again all reunited.
Katie, my sweet darling, your Mom loves you so much.
Gracie
Gracie came to us to spend her last days as she lost her battle with heartworm. Gracie was in the care of a wonderful foster home until it was her time to be called to the bridge. Gracie you are now free of pain and will be missed by those who knew you in your final weeks and days.
Run Fee Gracie Run Fast
Copper "Lou"
You started out as our "big lug" but turned into our favorite "old man". You always met me at the door when I got home.
You always slept in bed with me and Dad. You were always by my side and I couldn't ask for anything more. You always
looked at me like I was the most important person in the world. Through out your years with us we have grown to love
you more than we could of imagined. I will miss our walks and our nightly snuggles in bed. You were a best friend to me.
I will be lost without you here to talk and cuddle with. I know Carol and Faith are lost without their big brother to guide
them through their day. Dad and Michael are missing you so much but they know it was your time to go be with Chase-C.
You will always be in our hearts.
Letting you go was the hardest thing we have ever done. You will be missed greatly by all of us.
I know you are resting peacefully but remember that we love you and wish you were here with us everyday. We love ya Copper Lou!!!
Love ya, Billie, Brian, Michael, Carol, and Faith.
C YA Rampage

7/12/02 – 5/29/12
He will always be remembered as our gentle giant. He was still trying to please us right to the end. We couldn't have asked for a more
loving gentle and caring pup. Thanks to all for the prayers and hugs. To all that Rampage touched please know he know longer is in pain.
He is running free with his family and friends that crossed before him. The saying Look into the eyes of a greyhound and see to their
souls is true right to the end. It was like he was asking permission to go. Run free Ramp until we meet again.
Love you so much Mom, Dad, and Spicey.
Okie Carryon

3/14/2000 – 3/24/2012
It is with heavy hearts that we must say so long to our loving pup Carry-On. Hecrossed the rainbow bridge some time last night in his sleep.
We want to thankGod for bringing him to us and for taking him in a peaceful manner. He went while sleeping on his favorite bed on his favorite blanket..
Run Free Baby Boy until we meet again..You will be missed but never forgotten..
Love Mom and Dad and of course the whole Schneider Pack..

Holly
, 3/23/99 – 12/14/11
(R Miss Holley)
My petite, lovely girl. I adopted Holly through TLC in 1/02. She was my joy, my sunshine. Very independent. Always gracious.
Silly. Playful. Sundog. oved to dig holes and eat poop. Sniffy girl. Had selective hearing. Loved to sing and howl. But nothing
gave Holly greater pleasure than being outside and lifting her sweet face to the sky – inhaling all the intoxicating smells the world
had to offer.
In 7/11, Holly was diagnosed with protein losing nephropathy. She had little interest in veterinary intervention, so
without her cooperation treatment options were limited. In 12/11, I made the heartbreaking decision to say goodbye.
Holly was 12-3/4 years old and lived with me just a few weeks shy of ten years. She had a happy life and enjoyed many crazy
adventures with her colorful half-brother Indy, who crossed the bridge in 2010. I hope my fearsome twosome are together again.
Holly was my girl and I miss her so very much.
And You Jose

11/28/99 – 1/13/12
Sire: Molotov Dam:No More Secrets
Pet Name:

Josie
Yesterday we helped Josie cross the Rainbow Bridge. We only adopted her last March. She was an unexpected return after being in a home for many years. Josie was a perfect fit to our greyhound pack.
Josie was the most beautiful greyhound we've ever seen, with her striking sable markings. She loved her grey siblings, playing with stuffies, nightly treats, going to the local greyhound reunions, and her greyhound secret Santa exchanges.
She was having neck pain issues in November. X-rays showed "something suspicious" at C-3 vertebra. Pain meds were working…until we noticed Josie limping on her left rear leg a few days ago. We had several more X-rays done. We found out that she had arthritis in a previously dislocated toe, and no sign of bone cancer in that leg. Sadly, Josie had a large mass surrounding her liver and spleen, causing displacement of other organs.
Josie crossed the Rainbow Bridge lying on her favorite bed, with her Mommy & Daddy gently holding her close, telling her how much she is loved and that she will be with Vera, Angel, Sally, Cohen, and Bashful who are waiting for her.
Run pain free sweet Josie!
Deeply loved and forever missed by the Allen Family
R Irish Lass

12/06/97~ 8/12/11
Sire: Seein the Green Dam: Behns Jenna Rue
Pet name:

Bree-Anne
We first met you at a Schuler's Book store Meet & Greet with your new foster mom, Michele. At age 4, you had just come off the track, not looking very pretty…lots of scars, dull, flaky coat…but cute as can be with those big black ears standing straight up! Fast forward several months…you were returned after being with a family for 9 months. We decided to try fostering, and you were there, waiting for us. You came into our home, and stole our hearts…we adopted you just ten days before your 5th birthday. I called you "funny face" and "goofy girl"…you made us smile every day. You could maneuver a dog bed from one side of the room to the other, until it felt just right under your little body. You were such a "talker", especially when you wanted us to know it was time to leave the Meet & Greets. And, such a little flirt…you loved your big boys, Scrappy & Rusty…loved dancing for them, barking and looking cute. You could do a 360 degree turn so fast it would make our heads spin…then bounce across the yard in happiness. In the end, you hung on for as long as you could, and we cared for you the best we knew how…but it was your time to go. We were blessed to share our lives with you for almost 9 years…you brought us so much joy! We love you and miss you…our sweet little Bree-Bree. We find comfort in knowing you are dancing and playing with Scrappy Boy at the Bridge.
The Dennison Family
Tom S Enchilada



12/22/2001~ 08/09/09
Sire: Molotov Dam: Tom S Ten Carat
Pet name:

Scrappy
A big, strong, handsome boy who became Tom's loving, loyal companion. Always a gentleman around his "girls" and every foster dog who came through our doors. Scrappy was a patient boy, except when it was feeding time. He was known to give a little nip on the butt or bark insistently if Chris was not preparing the meals quickly enough. When his food was ready, he would run to the top of the stairs and spin in circles so fast it would make us dizzy. And then there were the times when we thought he was in touch with Aliens…jumping, barking, and snapping at the air as if something was there that we could not see. We don't think Scrappy is running at the Bridge, he is most likely resting. He taught Tom the greyt art of napping, and Scrappy anxiously anticipated their daily naps together. Another daily routine was walking the perimeter of the yard, making sure it was safe and secure. Although he was a greyt racer, even having won a Stakes race, in his retirement he didn't care about running anymore. Instead, he trotted proudly, much like a thoroughbred horse parading to the winner's circle. Our Scrappy Boy looked big and strong, but he was a sweet, loving boy. He touched our lives in so many ways, and he left his paw prints on our hearts. there will never be another Scrappy Boy. Rest well sweet Scrapper.
The Dennison Family
In Loving Memory of
Our Beloved "Fur Babies"
ICU Everlast

~ 4/1999 ~ 9/2011
&
Miss Carly

~ 2/1999 ~ 9/2011
Heaven's Doggie ~ Door
~ author unknown ~
My best friend closed his eyes last night,
as his head was in my hand.
The doctor said he was in pain,
and it was hard for him to stand.
Many thoughts ran through my head,
as I cradled him in my arms.
I though about his puppy years,
and Oh. . . .his many charms
Today, there was no gentle nudge
with an intense "I love you," gaze,
only a heart that's filled with tears
remembering our joy~filled days.
But an Angel just appeared to me
and he said, "You should cry no more,
God also loves our canine friends,
He's installed a doggie~door! ! !"
Zoey
Goldust Snolady
1997 – 2011
Zoey was a very special girl who came to us as a brood mama. She was the perfect meet and greet dog. She would look for people to pet her and when they left she was in search of new people. She was such a great ambassador for the retired greys. She would never tire of meeting new people.
She was one wonderful girl who will be missed by her family.
Run free sweet lady.
Sadie K Paprocki 02/01/2000-12/06/2008

Sadie was the most wonderful and beautiful dog that one could ever have, she was very unique and a true daddy's girl.
Sadie enjoyed life to the fullest whether it was running in the park, walking with daddy or eating a delicious steak.
She took over our bed and our hearts. Sadly, Sadie's time was too short. She developed an osteosarcoma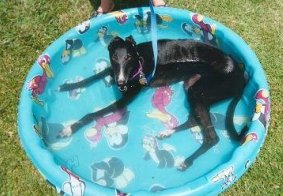 in her leg, and despite efforts to save her, the cancer had spread to her lungs.
Sadie will be missed by everyone who had ever known her.
Chase-C
The hardest thing our family had to do was let you go. You were our first
baby and you held my heart from the moment I saw you. I will miss our
snuggles on the couch and falling a sleep with you in bed until Daddy
made you give him his spot. Michael and Copper are lost without you to
guide them throughout the day. I know you are resting peacefully but
remember that we love you and wish you were here with us. We love you
Chase-C!!!
Love, Billie, Brian, Michael and Copper
In Loving Memory of our


Jasmine Cruz

, Our beloved Sara Lee

"Everybody doesn't like something, But nobody didn't like Sara Lee"
Resting in Peace with her brothers & Sisters from the Greyhound Garage of Greyter Grand Rapids
Run fast and run free Sara Lee!
Lovingly missed by
Mom, Dadman, & Aunt Chris
(Dorothy & Rick)
Build Them a Playground

R. Meyers
Lord, build them a playground, and place it high in the sky
A special place of safety, when it's their time to die
They will provide You with sunshine on the darkest of days,
They will show You their love, in oh so many ways
You gave them to us, for such a little while,
But they were with us long enough to teach us to smile
You now have our Ralphie and Cloie, our bundles of joy,
Thank You oh Lord, they brought us greyt joy
Please know the love he gave us, proved You gave us the best
Oh Lord, give us the strength to love all the rest.
In loving memory of our boy,

Tumble Drive (Ralphie Edgar),


And our beautiful little girl,

BDK's Clover (Dinky Dog)



Now running fast and running free with our Frieda, Sara Lee, Garbo, & Lilly
Kiowa High Book
"Booker"

He was born Oct. 9 /97 and went to the Rainbow bridge Sept 19/06. Booker as we called him joined our family four years a go this month. He was always smiling and accepted the other dogs, cats and birds that I had. Sadly we did not have him long enough, Booker had a stroke and we had to helped him to the Rainbow bridge. Booker loved the winters here in Sault Ste. Marie, he would run through the snow and his boots would go flying off in every direction. Everyone that met Book came to love him, as much as I did and will miss him as well. Be happy Booker you are now pain free and running on the race track you loved so much, I will see you again my big boy. Untill then I will miss you and always remember your smiling face.
Barbara
Quasky Breezy
"Grandma Breezy"

finally succumbed to her age and has left us. She left some of her children and her grandchildren in the care of some wonderful TLC adopters that I know will do her proud in caring for her offspring.
L.E. 39536 R.E. 64F                                                           Pedigree
What a marvelous journey we shared. Fifteen years long. We met in our bachelor days and shared a mobile home in Elkhart (you hogged the bed). We went everywhere and did everything together. You came to the office every day where you met the public and was soon promoted to CEO (canine executive officer).
In the evenings and on weekends we visited retirement homes and attended greyhound functions. Your infectious 'greyhound grin' won many hearts and you were referred to as 'the greyhound ambassador'. Your gregarious nature was responsible for many others adopting greyhounds of their own.
Then we met, dated, and married (the same woman). I liked her company and you liked her cooking – we never figured out what she liked about us. She eventually joined us in business and all three of us worked, traveled, and lived as a three-person unit (two humans, one canine). Then we lived in a duplex and we wanted a real place of our own. We found that place – a house with forty acres in Southwestern Michigan. Together we created hiking trails, erected birdhouses, and spent countless hours together restoring the native habitat. You shared our property with the deer, rabbits, turkey, and song birds.
You'll never know how much joy I got from watching you grow from a shy, nervous dog that arrived in a crate to the proud estate hound you eventually became. Visions of you on our nature trails will forever be etched in my memory. Now I can no longer hug and pet you, or watch as you explore the sights, the sounds, and the scents along our trails. Though death may keep me from touching you, it can never stop you from forever walking the trails of my heart.
Note: BOLT did not come through G.R.A.C.E. group. He was one of the very first greyhounds to arrive through the Greyhound Companions program in Elkhart, IN. I fostered a number of dogs and BOLT was to have only been with me a short time. That short time grew to fifteen years and BOLT was eighteen when he passed away this last spring. We miss him but are thankful for the tremendous joy he brought to our lives. – Jeff Nelson
*Note: This is not a G.R.A.C.E. Adoption but we were so touched by the sentiment we just had to include Bolt in the memorials. Perhaps some of you that were with Greyhound Companions in the past will remember him.
Angus (a.k.a. Jandy Jay)
He is your friend, your partner
your defender, your dog.
You are his life, his love, his leader.
He will be yours, faithful and true
to the last beat of his heart.
You owe it to him to be worthy of such devotion. -Anonymous
L.E. 47178 R.E. 45C    
Pedigree
Flying Nintendo
"Nintendo"
was a return. After years in his adopted home, his family chose to send him back to TLC. When he arrived, he was having some trouble and went to the vet for a routine check. He was riddled with cancer and TLC ended his suffering. He went out of this life loved by those of us that knew him but without the comfort of the family he'd known for years. Sadly there are many cases like his and we pray that society as a whole regains it's sense of commitment, whether it be to family, friends, or the animals it cares for.
 L.E. 60308 R.E. 96E                                                 Pedigree
Sh Kuroi
"Zena"

was a very special girl. She came to us with a broken leg and went through orthopedic surgery to correct it. She was cared for and loved by several of the TLC Volunteers before finally being diagnosed with an acquired liver shunt that was becoming so severe, there was little hope that corrective surgery could repair it let alone prevent additional occurances. She was helped over the bridge by those that cared about her. She'll be missed until that day when we all get reunited once again.
L.E. 14375 R.E. 82C                                    
Pedigree
Lion was one of the first Greyhounds that we fostered and we have always regretted that we didn't keep him.  He went to a wonderful family who gave him the best home possible.  A smiler and a real goof, Lion was a terrific companion.  Unfortunately Lion left all of us on Thanksgiving day 1999.  We, along with his family, will miss him very much.  "Take care Lion and keep on smiling until we can cross the bridge to be with you again."
Bare Clark

was a very special 2 yr old foster of ours.  Shy and frightened of children he adored my husband.  He was a mans dog both here and in his other foster home.  He crossed the bridge after suffering terribly from being hit by a car while traveling with his family.  We suffer now also, but we're glad he is in a place where he no longer suffers and he needn't be afraid.  "Be at peace Clark, we love you and we will see you again."
Stella was a sweet little girl that never got the chance to find her "forever" home.  She went into foster care for us and was gone in a heartbeat.  Now our hearts, especially those of her foster parents, don't beat with quite the spark they had, as we mourn her passing.  A rare condition where her intestines collapsed took this little girl, without too much pain we hope.  We know that she will have found a new place to stay with her friends on this page, and that we will see her crooked little tail again when it is our time to cross over the bridge.
 

Odie (Toyota)

was a very special boy.  Most of us that know him can remember the trials he put Lori through and the time he was wearing training pants at Kristen's house.  The poor guy had a bacterial bloom in his gut that caused him to have an extended bout of bloody diarrhea.  Odie was loved by his new family but got loose and was hit by a car.  There were no apparent injuries and the police did not tell the family that he was hit.  He spent his last day loving and being loved by them just as he did throughout his life.  Now he's waiting to share eternity with them once again as he plays happily with his friends on this page.  In tribute Goldie says "He was my Best Friend and my Heart!"  We will all miss him tremendously.
Griffin (a.k.a. Moonscape)  was a beautiful blue fawn charmer with a personality to match his appearance.  A superbly handsome guy, he touched everyone who saw him but was tragically taken from us at a very young age.  His legacy is that he made such an impact in the lives of those who knew him and even those that had just met him.  His mom misses him so dearly, and is honored she had the pleasure of loving him.  He will never be forgotten and is, even now, roaching near the bridge waiting for his Mom to come play once again!
Piper

journeyed over the bridge earlier this year after spending a wonderful life with Cami.  Cami and Piper were soulmates if ever there were and still she cannot bring herself to write anything for this page.  That in itself is a testament to the kind of love they shared.  We all share Cami's grief and pray that one day, we'll get the chance to again spend time with the dear Grey Friends we've all lost.
Jake was a study in love and devotion.  Returned after being adopted, and unwanted by the original group that placed him due to health problems, Jake was cared for and loved by Cami until he could go on no longer.  Cami cared for him with a love and devotion that not many have, and has certainly earned the right to be with him again when they meet once more at the bridge!
Dad's Hey Hound!
"I used to be a greyhound, Frieda Freedom's my new name
I used to be a greyhound, running fast was my fame!"
Rest in peace Daddy's little Hey Hound
Until we meet again!
— Mommy & Daddy
I've always known the Lord loves me,
it's my greyhounds that remind me each day
just how much!
R. Meyers
As I go tonight and think…this wonderful dog will not greet me anymore, I cry. Two years ago I put my boxer Taz down due to cancer. I told my Gent that Taz is waiting to play with him and take good care of him and I know that Taz will not be alone anymore. Pretty ironic a brindle boxer and a white ticked greyhound running wild in open fields. That's how I like to think of them…chatting about the way they had me wrapped around their paws.. Right now Gent is running through fields of tall grass, not for sport and not for money. Just for the pure joy of running! Chasing the wind, he has finally won. I will miss them forever.

— Vicki
Precious

Whylee Boy

. We are so Blessed to have had you in our lives. You will always be our Precious Gift and now God has you.  You made our lives fuller, happier and more complete.  Now there is an empty space that can never be filled.  We miss you so much and not a day goes by without thoughts of you.  Run free Precious One and we will see you again.  Momma & Daddy love you so much. 04/01/96 to 03/18/02   
Camaro was a very pretty red female who was born 9-11-98.  We only knew her for a couple of weeks but she was a real sweetheart.  It is regrettable that she will never have the chance to find a home of her own and know the love that comes with an adoptive family.  Camaro left us September 27, 2002.  She was helped over the bridge in my arms, still happy, with a wag of her tail that belied the Autoimmune disease eating away at her flesh.  In the end, she was as sweet as ever and did not deserve the end that fate had in store for her.  She will be remembered always, just as Stella is remembered here at the hotel, with fond memories and could-have-been's.  Her sister is still here and has been agitated since the loss of her littermate.  Perhaps in time both she and we will be able to come to terms with Camaro's loss.  
Devie Cinderella
Broken she came with a wobbly gait
For a quick repair that couldn't wait.
She showed such love as none could ignore
if only we'd known what fate had in store.
When the goal was near, within her reach
Darkness stepped in to seal the breach,
And from whence she came she again will be
once happy and bounding and full of glee.
Now she waits on that far distant shore
For the tears we shed to rise once more,
And quicken the love we felt again
beneath the beautiful rainbows end.
In loving memory of "Curly" who overcame adversity and pain and touched all who knew her. Gone to the bridge following her Spay.
March 7, 1999 – March 13, 2003
Rieta's Travler
Travler

was a sweet and loving guy that was returned to us only to find that he was suffering from Cancer. A very special person took him in and they hit it off right away. Travler didn't have a great deal of time with them but during the time he was there, he was shown a lifetime of love and caring. Travler will be missed by all that knew him.
Switzler Stoney
Stoney

passed over on Friday, Feb. 20th just 2 days shy of his 14th birthday. Stoney was a very gentle old man who always kept the other 2 greys (and people) in check as he truly believed that was his job, and all the time keeping his best friend "Tickle Me Elmo" by his side. And he proudly did just that right until the end. A real gentleman who honored anyone who was fortunate enough to meet him. We will miss you dearly, Stoney, and hold you in our hearts forever.
Feb. 22, 1990 – Feb. 20, 2004
Twisted Fan
Fanny

was a very sweet greyhound. Unfortunately during her spay it was determined that her anatomy was very unusual. This led to her death when her small intestines collapsed into her large intestine and died. She had been in this condition since before her spay from all indications but due to the location of the collapse and the apparent lack of severity early, there had been no discernable symptoms until after her surgery. She was reopened today and the incision elongated to find the problem. Her prognosis was extremely poor so she was not allowed to wake back up. Her pain is over and we will miss her dearly. It is such a hard decision to let one of these hounds go but we have faith that this was in her best interest and we know that she is now in a better place. Godspeed little Fanny!
L.E. 13989 R.E. 72F                                                                                                          
Pedigree
Ion Garbo
1/26/1994 – 7/17/2003
"Mama Garbo"
Mama, you look so happy here with your new brother Ralphie. Perhaps you knew your new family was going to try to reunite you with some of your babies. We worked hard to find as many as we could, and were able to return only 4 before you left us. We've since brought another 3 back home in your honor with more waiting.
We had you for such a short time, but your memory will live on and on.
You came to us when our Frieda left, though you were with us for but such a short time, you gave us a life time of love and so many more new friends.
Thank you my sweet Garbo, run fast, run free! ! !
Sweet Lilly

Sometimes, late at night, as I lay with my head on top of my pillow,
I hear the soft flutter of angel wings, and can almost smell your sweet breath.
With a smile on your face, and twinkle in your eyes,
You nuzzle my neck. You let the Old Dadman
Know everything is alright, our decision was the right one.
You have filled hearts with love, You have renewed our faith.
You have shown us the love of our Master, He gave us His best when He gave us you.
Thank you my sweet darling, your rest is well deserved,
until we meet again, run fast, run free. . . . .
Mom & Dadman
"I've always known the Lord loves me, and it's my greyhounds that prove daily just how much!"
R. Meyers